31 mars 2011
Envie de tester ce combo de couleurs jaune et noir au travers d'une carte pour une amie. J'aime vraiment beaucoup ce ruban gros grain à rayures!
Just wanted to try this yellow/black color combo with this card for a friend. I just love this ribbon!
30 mars 2011
Coucou, je me fais rare ces derniers temps car très prise du côté famille! Et parmi mes occupations, la préparation du baptême de Malo. Les invitations sont lancées, je travaille maintenant sur les boîtes à dragées. A suivre donc!
Hi, it's been a while...very busy on the family side! And among all my recent activities, the preparation of Malo's baptism. Invitations are sent, I'm now working on the "dragées" boxes. Stay tuned!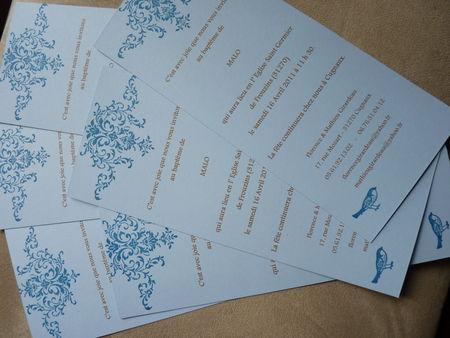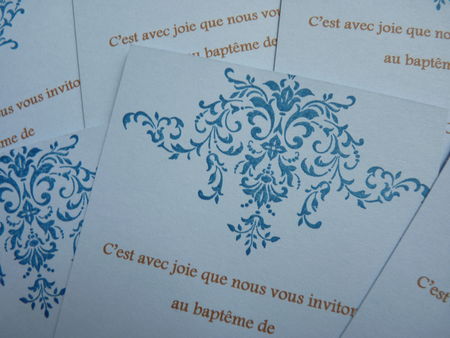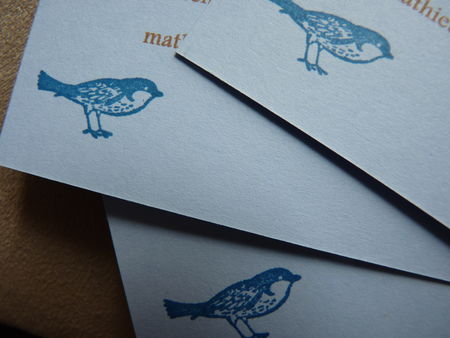 01 mars 2011
Sale-A-Bration, c'est fini...sniff ;-( Sale-A-Bration is over, so sad BUT...
Mais nous enchaînons avec les Folies de Mars!! Les Folies de Mars are here!!!!
Du 1er au 31 Mars 2011, profitez de -20% à -30% sur une sélection de produits Stampin'Up!. From March 1rst to March 31rst, enjoy up to 30% reduction on a selection of Stampin'Up! products!!
Article *Page *Description * Remise * Prix normal *Prix réduit

109679 40 Roue Stampin' Around Fast Flowers 20% 9,50 € 7,60 €
109685 48 Roue maxi Stampin' Around Neighborhood 30% 12,25 € 8,58 €
110528 61 Timbre d'arrière-plan Friendly 30% 24,95 € 17,47 €
107559 69 Roue maxi Stampin' Around Spot On 20% 12,25 € 9,80 €
109675 70 Roue Stampin' Around Baroque Border 30% 9,50 € 6,65 €
110217 75 Set de Tampons Des Vœux Parfaits 30% 24,95 € 17,47 €
121717 87 Papier cartonné A4 Blanc miroitant 30% 9,95 € 6,97 €
106555 87 Papier cartonné A4 Blanc lustré 20% 8,50 € 6,80 €
117167 89 Papier de la série Design Gala de verdure 20% 11,95 € 9,56 €
113659 93 Transferts Hidden Garden Blossoms 30% 11,75 € 8,23 €
111325 99 Hodgepodge Hardware Argent stylisé 20% 36,25 € 29,00 €
120963 102 Stampin' Pastels Nouvel ensemble de coloris 30% 15,50 € 10,85 €
Dans la limite des stocks disponibles. Alors ne tardez pas et contactez moi pour passer commande! Quantities are limited so call me to place your order!
A bientôt! See you soon!
27 février 2011
Voici un mini album réalisé pour les 6 ans de ma grande, et oui déjà!! A mini album made for my daughter's 6 years old...already!
La structure de cet album accordéon a pas mal tourné sur la toile, chez Julie (en anglais), et chez Valérie, qui a adapté la version anglaise en français. Je suis donc partie de la version de Valérie que j'ai un poil modifié sur les mesures. You've probably already seen this album on the web at Julie's (in english) and at Valérie's who translated Julie's version in french and adapted it in centimeters. I've worked with Valérie's version, slightly modified.
Nous avons donc réalisé cet album en atelier mi février lors d'un atelier parents/enfants avec Stéphanie et sa bande. Ils étaient 8 (6 garçons et 2 filles) de 5 à 10 ans et ils ont super bien travaillé!! We've made this album mid february during a kids/moms workshop with Stéphanie and her friends. They were 8 (6 boys and 2 girls) from 5 to 10 years old and they did such a great job!!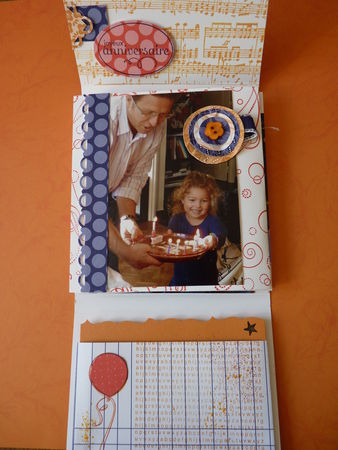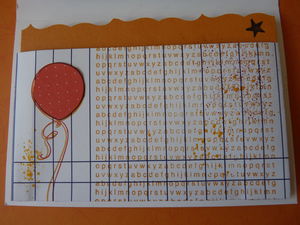 07 février 2011
Dominique aime les "vraies" couleurs, celles qui ont du peps. Pour cet atelier de vendredi, elle souhaitait du rose et du orange et travailler sur le thème de Pâques avec un sachet pour mettre des chocolats et une carte assortie.
Dominique likes the "true" colors. For this friday's workshop, she wanted some pink and orange and to work on the Easter theme with a chocolate bag and matching card.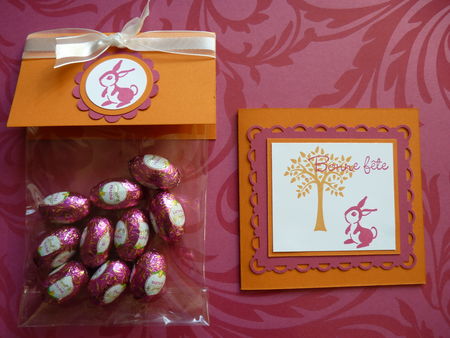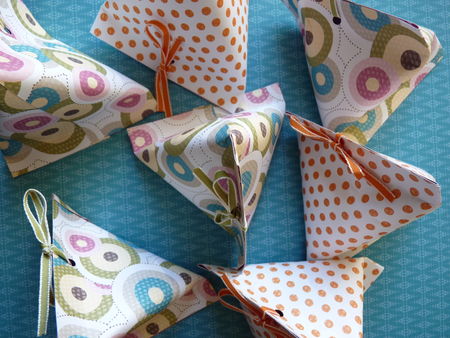 Une autre fournée de berlingots aux chocolats (Côte d'Or bien sûr!!).
Another batch of my chocolate boxes for the ladies.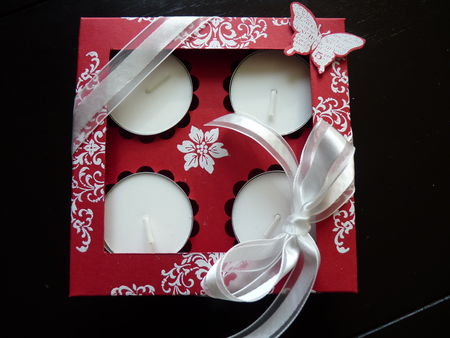 Et pour remercier Dominique de sa confiance et de son accueil, une petite boîte à bougie réalisée grâce au pas à pas de Mylie.
Les motifs en blanc sont embossés.
And to thank Dominique for the lovely time, a candles's little box. You can find the instructions at Mylie.
05 février 2011
Mardi dernier, Lucie avait réuni quelques collègues pour un atelier découverte Stampin'Up! avec une demande spéciale pour de l'embossage à chaud.
Nous avons travaillé sur une carte dont les motifs sont embossés ce qui leur donne une finition irisée et en volume.
Last tuesday, Lucie invited a few collleagues over for a Stampin'Up! workshop, with a special request for the embossing technique.
We've made a card with embossed images which gives them volume and a shiny aspect.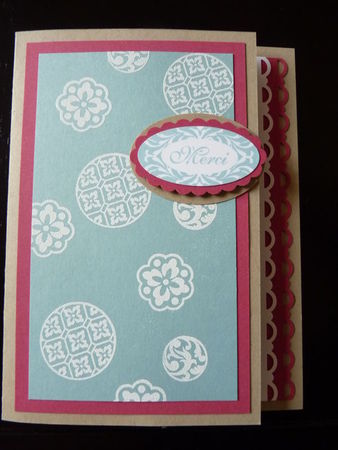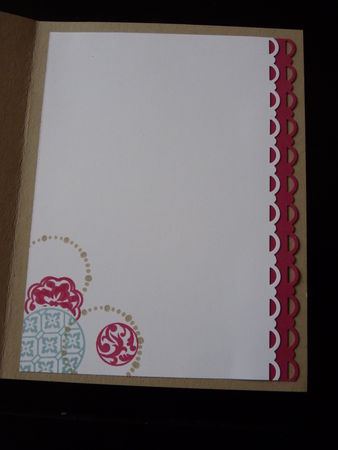 J'avais refait mes petits berlingots qui avaient eu tant de succès l'année dernière!
I had made again my little chocolates boxes everyone loved last year!
Et même si le soleil revient c'est encore l'hiver et une petite bougie est toujours appréciée. Merci Lucie de m'avoir ouvert ta maison une nouvelle fois.
And even if the sun's back, it's still winter and a little candle is always appreciated. Thanks Lucie for opening your house to me a second time.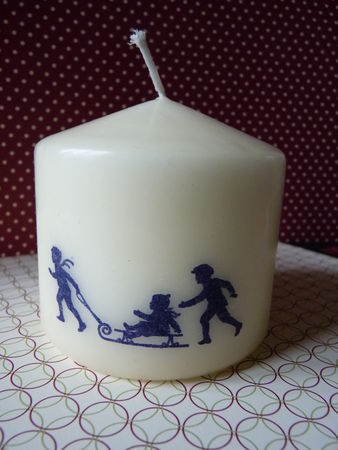 31 janvier 2011
Pour changer un peu, un atelier Parents/enfants chez Pascale samedi dernier. Nous avons travaillé sur une carte d'invitation pour un goûter d'anniversaire avec le set de tampons "Fox and friends".
J'avais fait deux versions, une avec des couleurs plus masculines et une plus féminines. Les enfants avaient le choix des couleurs et des animaux et ils ont adoré!!
The workshop on saturday afternoon at Pascale's was with moms and kids. We've stamped a birthday invitation card using the "Fox & friends" stamps set.
I had made 2 cards, one more girly and one more boy. The kids could choose their colors and stamps and they've loved it!!
Quelques bonbons pour les petits monstres...
Few candies for the little monsters...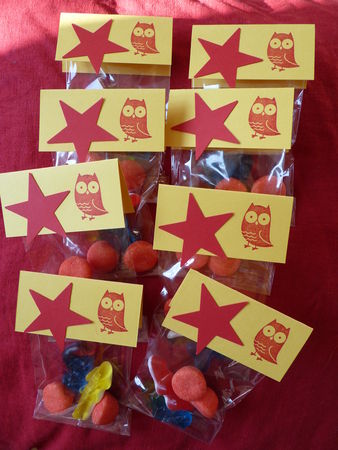 Et trois petites cartes pour remercier Pascale de m'avoir accueillie chez elle.
And 3 little cards to thank Pascale for opening her house to me.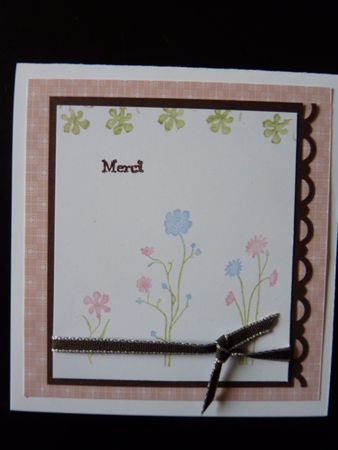 La dernière est faite avec un des sets de tampons à gagner durant Sale-A-Bration. N'oubliez pas, à chaque palier de 60 euros d'achat, vous gagnez un set de tampons exclusifs! Envoyez moi un mail pour passer commande!
The last one is done with one of the stamps set you can win during Sale-A-Bration. Don't forget, every 60 euros you spend, you can earn an exclusive stamp set! So send me an e-mail to place an order!
27 janvier 2011
Une autre carte enfantine qui peut s'adapter pour naissance/anniversaire/invitation.
Another Child's card which could be adapted to birth congrats/bdays/invitation.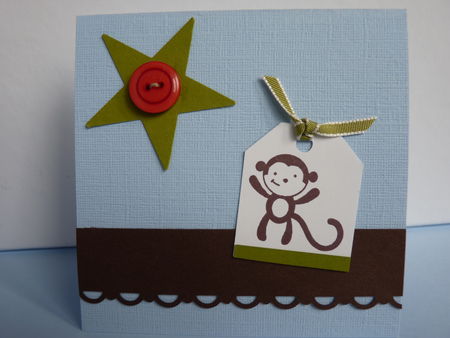 26 janvier 2011
Une nouvelle soirée avec Stéphanie et ses amies lundi soir, dans le cadre des cours de scrapbooking qu'elle donne dans une association. Elle m'a demandé de prendre sa place le temps d'une soirée et de proposer une page tout au tampon.
J'en ai profité pour faire une petite démonstration de différentes techniques de tamponage.
Encore merci pour cette opportunité, Stéphanie!!
Another evening last monday with Stéphanie and her friends. She teaches scrapbooking in a club and asked me to take her place for once. After summarizing the various stamping techniques, we've made a scrapbooking page.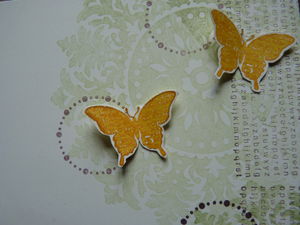 25 janvier 2011
Samedi après midi, c'est chez Annie que nous nous sommes retrouvées pour créer quelques cartes ensemble. Un très très bon moment, des peanut butter cookies maison mémorables et un accueil très chaleureux, merci à vous toutes!
Atelier en anglais car Annie et ses amies étaient américaines pour la plupart. A l'origine, j'avais commencé ce blog dans les deux langues, puis le français avait repris le dessus. Mais maintenant que j'ai des lectrices, je vais donc revenir à une version bilingue.
Last saturday, we've met at Annie's to create a few cards together. A lovely moment and some unforgettable home made peanut butter cookies! Thanks again to all for your kindness.
Following this workshop, I've decided to write again in english in this blog (had done it at the very beginning).
Nous avons travaillé un premier thème Saint Valentin avec une carte aux couleurs toutes douces et un brin romantique. J'ai utilisé le set de tampons "J'aime les coeurs" et la perforatrice "Petit Coeur".
We've first worked on the Valentine theme with soft colors and a romantic card. I've used the stamp set "J'aime les Coeurs" and the punch "Petit Coeur".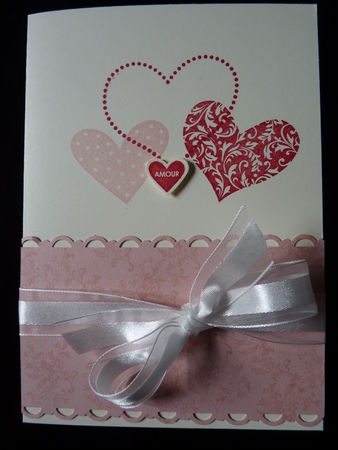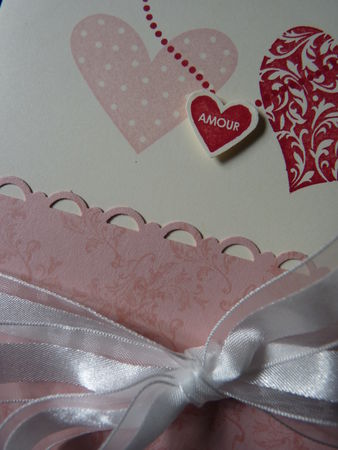 Nous avons continué sur un thème enfants avec une carte qui peut s'adapter pour une naissance, un anniversaire ou une invitation pour une fête par exemple. Toujours mon petit singe préféré du set "Fox & friends"!

We've then made a kids theme card which could be adapted to birth congrats/annoucement, or birthdays congrats/invitations. Once again, my favorite little monkey from the "Fox& friends" stamps set!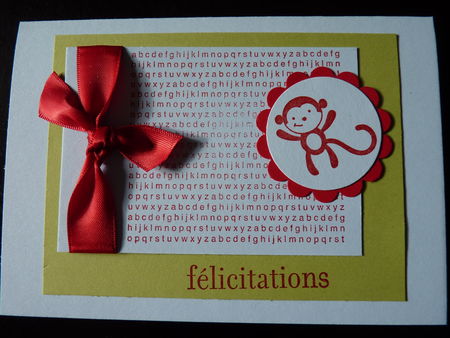 Et finalement une carte sur un thème amitié/pensée/remerciement. Elle nous a permis d'utiliser le duo perforatrices coin et bordure.

And finally we made a thinking of you/ thank you card using both the corner and the border punches.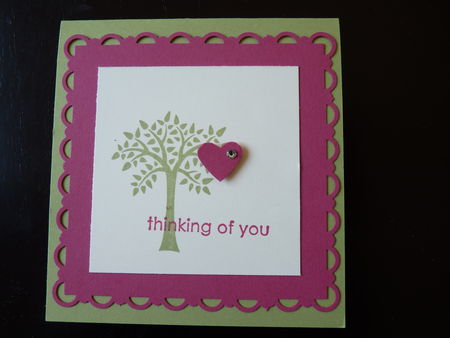 Après tout ce travail, elles méritaient bien une "pause Kit-Kat". Petit cadeau pour les participantes réalisé avec le set Joie à gagner pendant Sale-A-Bration.

After all this work, they desserved a "kit-kat break". Little present for the ladies, made with the "Joie" stamp set you can win during Sale-A-Bration.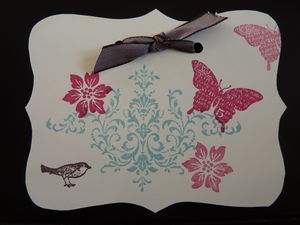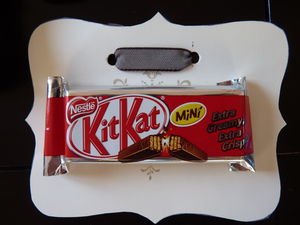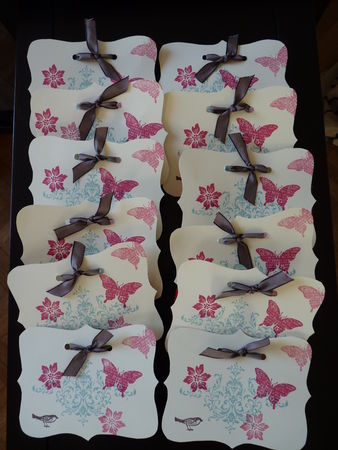 Et puis 3 petites cartes réalisées pour remercier Annie de m'avoir ouvert sa maison.

And 3 little cards made for Annie to thank her for opening her house to me.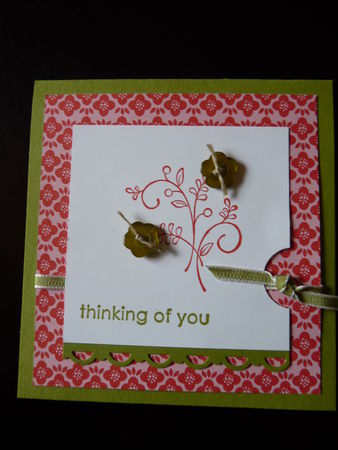 Cette dernière carte est une copie de Michelle Last, une démonstratrice Stampin'Up! anglaise.

This one last card is a lift from Michelle Last, an english Stampin'Up! demonstrator.