17 mai 2012
La maman de Sarah avait bien aimé l'idée des papillons du T-shirt de Norah et elle m'en a commandés pour égayer et/ou racommoder les vêtements de sa fille. J'ai utilisé les nouveaux tissus "Roses en Liberty" sortis dans le nouveau mini catalogue été 2012 (page 13).
03 mars 2012
Une des puéricultrices de la crèche de Malo finissait son contrat pendant les vacances. Alors pour la remercier et lui souhaiter une bonne continuation, je lui ai préparé un petit présent. J'ai utilisé la Big Shot et le poinçon "Cône en pétales".
A lady from Malo's day care center is ending her contrat and leaving. To thank her and wish her all the best for the future, I've made this little treat using the Big Shot and the "Cône en pétales" die.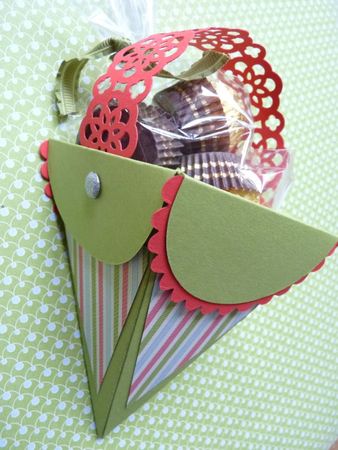 01 mars 2012
Pendant les vacances c'est Norah (7 ans) qui a voulu se personnaliser un T-Shirt basique. Nous avons utilisé la même technique que celle décrite ici. Elle a choisi ses couleurs (Tissus Flocons Galants) et ses motifs et les a placés elle même sur le T-Shirt. Depuis elle n'arrête pas de le porter!
During the school holidays, Norah (7) wanted to decorate as well her T-shirt. She chose the fabrics ("Flocons Galants") & the Dies. You will find the technique THERE. Since then she's wearing it all the time!
07 janvier 2012
Mais que veut-elle bien dire avec ce titre mystérieux?? C'est simple, il y a ce poinçon Deux Etiquettes (page 123) pour la big shot que j'ai utilisé pour personnaliser mes bouteilles de vin à offrir aux oncles et tantes à Noël. Une utilisation parmi tant d'autres de ce poinçon! Et vous, vous faites quoi avec?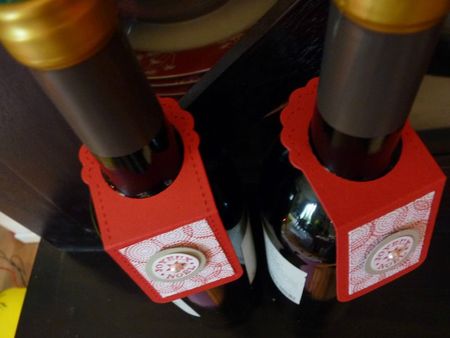 What a strange title????!!! Well, actually I've used the Deux Etiquettes Big Shot die (page 123) to decorate some wine bottles I've offered at Christmas.
This is just one idea of what cold be done with this Big Shot die. And you, what do you do with this die?
13 septembre 2011
Une boîte à lait pour emballer les rochers Suchard offerts aux participantes de l'atelier de Dominique hier. Déjà vu me direz vous? Oui, MAIS.........cette frise bleue ne vous dit rien et pour cause! Elle est réalisée à partir d'une des nouveautés du nouveau catalogue qui sortira le 1er Octobre! Mais CHUT.......! Et vous voyez aussi un bout de mon nouveau parquet ;-)
A milk box to wrapp the chocolates given to Dominique's workshop's ladies yesterday. Already seen, right? Yes, BUT...........this blue line...?? Made with one of the new product that will come out with the new catalogue on October 1rst! And on the house's renovation side, you can see a bit of my new wooden floor ;-)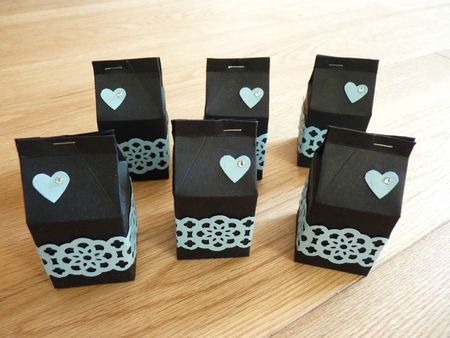 02 septembre 2011
Bon, on reprend les bonnes habitudes...non, non pas encore de nouvelles créations, je suis toujours dans les cartons avec 3 enfants, rappellez vous!!
Par contre, je ne vous ai pas montré ce que j'ai offert aux puéricultrices de la crèche de Malo mi Juillet.
J'ai utilisé ma big shot, mes plaques petits pois, papillons et veloppe festonnée pour faire ça:
OK, back to good posting habits...nope, no recent creations yet... remember?? I'm still home with 3 kiddos and house renovation going on!!
But I had done these boxes mid july for the ladies taking care of Malo at day care.
I've used my big shot, and my dots, butterflies and enveloppes dies to do that :
08 juillet 2011
Je sais pas pour vous mais moi je m'éclate avec ma Big Shot!! On nous promettait une machine qui coupe de multiples matières, alors JE TESTE pour vous!!!
Don't know for you but I'm having real fun with my Big Shot!! We were told this machine works with various materials so I'M TESTING it for you!!!!
LE METAL d'abord. J'ai utilisé ici un couvercle de boîte de lait de bébé. Mais une cannette de soda fonctionne aussi (attention de ne pas vous couper!). Ca coupe et ça embosse impeccable!
METAL first. Here I've used a metal cap of a baby's milk box. But a can will do too (but don't cut your fingers!). It perfectly cuts and embosses!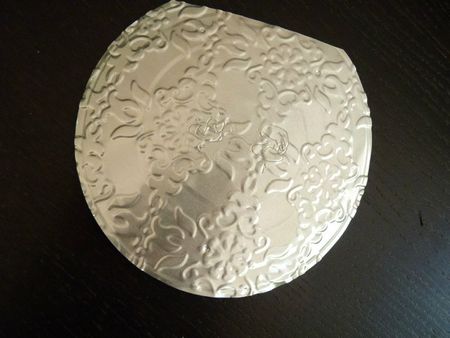 Le LIEGE maintenant!
CORK now!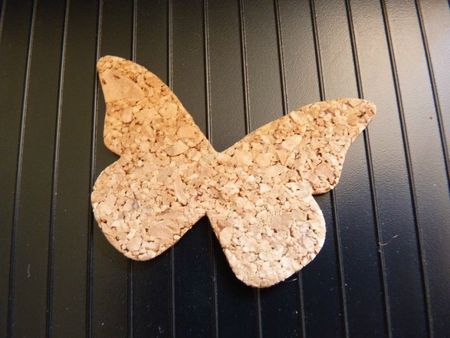 J'ai pris aussi du papier un peu épais que l'on trouve dans les boîtes de chocolats par exemple. J'aime beaucoup le volume que cela apporte.
I've used it with thick paper that you can often find in chocolates's boxes for instance. I really like the volume it gives to the butterfly.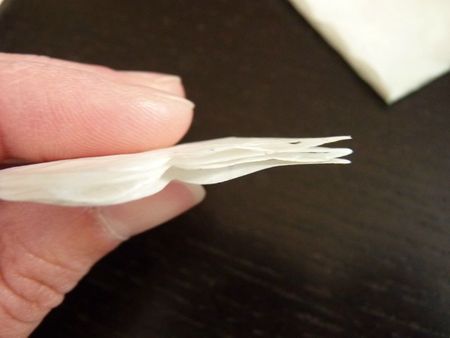 J'ai aussi testé avec les mousses de protection dans lesquelles on reçoit parfois les feuilles de scrapbooking.
I've also tested the protection foam sheet used to protect scrapbooking papers.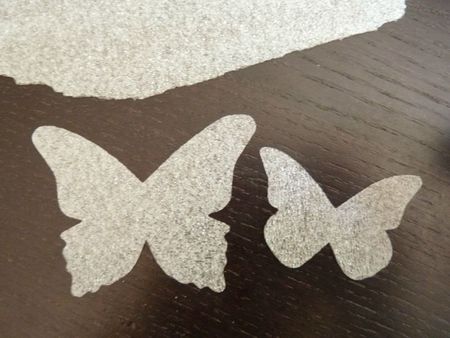 Et puis le carton évidemment!
And cardstock of course!
Les allemandes Daniela et Nicole ont utilisé du pain azyme et ainsi pu faire des cartes qui se mangent et décorer des cupcakes de façon magnifique!
The german girls Daniela and Nicole have used it on edible paper to make cards and decorate cupcakes. It's beautiful, I love it!!!
Il y a plein d'autres façons d'utiliser la Big Shot, avec du tissu, du cuir, du bois, etc...ET VOUS, que faites vous avec votre Big Shot???
There are so many other ways to use the Big Shot, with fabrics, leather, wood, etc... AND YOU, what do you do with your Big Shot????
05 juillet 2011
Petites enveloppes faites avec la big shot et le poinçon "enveloppe festonnée" page 7 du mini catalogue. J'ai mis un chocolat à l'intérieur pour offrir aux participantes de l'atelier de Dominique.
Small enveloppes made with the Big Shot and the "enveloppe festonnée" die page 7 of the mini catalogue. I've put a chocolate in it to offer to the ladies at Domnique's workshop.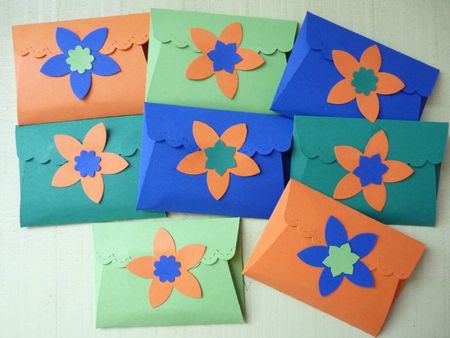 19 juin 2011
Ce format mini boîte à lait est vraiment parfait pour offrir de petits présents! Et il laisse une large place à la déco!
This small milk box is perfect to offer small presents! And you still have space to decorate!
08 juin 2011
Et je continue sur ma lancée avec les merveilles que l'on peut réaliser avec la Big Shot. Comme hier, toujours les plioirs à gaufrage. Je teste aujourd'hui "Papier peint d'époque".
Big Shot again to show you the beautiful pieces of papers you can create with it. Like yesterday, I'm showing the Embossing folders, using the "Vintage Wallpaper" this time.